There's a shortage of broadleaf evergreen trees that can be grown without high maintenance costs in the arid West, where summers are hot, winters cold, and soils alkaline.
Shortages are the mother of opportunity, so Heritage Seedlings & Liners, in collaboration with oak expert Dr. Allan Taylor, for the first time brings to market a trademarked line of grafted, native Southwest oaks for water-wise gardens. Our grafting assures you of genetic uniformity and adds another desirable feature: those selections that normally sucker lose that trait to flourish under nursery care as single-trunk specimens.
Natural crosses of up to seven different native Western white oak species, each of our selections is unique in leaf form, color, growth habit, and mature size. They're adapted to very low maintenance or unirrigated landscapes and help to fill the urgent need for small trees that can be safely planted in an attractive fire buffer zone around suburban homes and commercial sites. As street trees, they can help to relieve city maintenance budgets.
Dr. Taylor, who has collected oaks around the American Southwest for over 30 years, has a personal preference for those with bluish leaves and evergreen habit. Most selections are relatively small trees - ideal for city lots.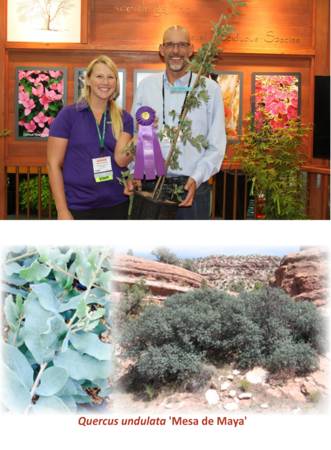 These native oaks of the American Southwest offer homeowners, garden centers and nurseries fascinating, delightful ornamental trees with upside profit potential. Unlike oaks of the American East offered in the wholesale nursery trade, these selections are regionally adapted Southwest natives, grafted so you don't have to reckon with frustrating seedling variability. Best of all, each is uniquely attractive – far more than their rock-hard constitution might suggest. And finally, they thrive with regular nursery care, even in the Pacific Northwest.